1. 2004 Honda Metro 2T swap Custom engine Mount by "ME"
AF16,shrouds,shock,polini clut h bell,Daytona variator,polini belt,corsa,44.4 crank,new bearings,Ct black,vforce stage 6 reed block,stage 6 rt 26mm,oil pumpblock off,stator,mag,mount,Ncy kicker..
Arrow pipe in Picture but I have a Custom built Big Scorpion pipe going on it..
2. 2005 Ruckus 2T swap Custom mount by "ME"..
72cc Corsa all the goodies with Arrow pipe..
Both will get custom Aluninum gas tanks made by me and a Fabrictor buddy.
Metro tank will be a under seat about 3-gallons
Ruckus Tank between 4-5 gallons..
url=
https://postimg.cc/image/3sd5wcaxz/
]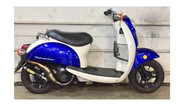 [/url]